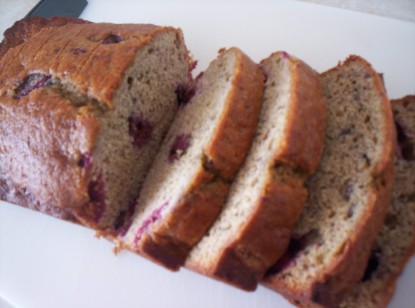 Difficulty: Intermediate
Servings: 10-12
Cook Time:
50-60 minutes
Ingredients
1 1/3 cups all-purpose flour
¾ tsp. salt
½ tsp. baking soda
¼ tsp. baking powder
5 1/3 Tbsp. unsalted butter, softened to room temperature
2/3 cup sugar
2 large eggs, lightly beaten
1 cup mashed, very ripe banana (about 2)
½ cup coarsely chopped walnuts or pecans (optional)
½ -1 cup frozen raspberries (in pieces and whole)
Directions
1. Preheat the oven to 350ºF. Grease an 8 1/2 x 4 1/2 loaf pan.
2. Whisk together the dry ingredients in a medium-sized bowl and set aside.
3. In a large bowl, beat the butter and sugar on high speed with an electric mixture until lightened in color and texture, 2-3 minutes.
4. Beat in the flour mixture until well blended and is the consistency of brown sugar. Gradually beat in the eggs. Finally, fold in the banana, walnuts if desired, and frozen raspberries, just until combined. (Baker's Note: Keep the raspberries in the freezer until you're ready to add them to the batter. Otherwise, you'll end up with red streaks and raspberries that fall apart as you're stirring.)
5. Scrape the batter into the pan and spread evenly. Bake until a toothpick inserted in the center comes out clean, 50 to 60 minutes. Let cool in the pan on a rack for 5 to 10 minutes before removing from the pan to cool completely on the rack.
Baker's Note: As tempting as it is, don't cut this bread until it has cooled down for at least a half hour to an hour. When it's removed from the oven, it's still cooking and contains a lot of moisture. We want to let that process wind down on its own without letting a lot of the moisture escape. The wait is well worth it!
(adapted from The Joy of Cooking)
Categories: Breads, Fruit Breads
Submitted by: aelfswythe on May 4, 2010