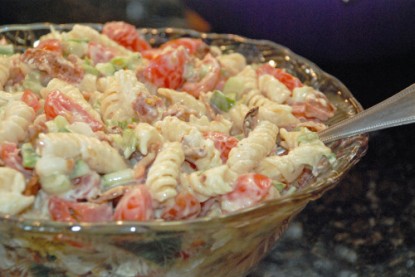 Difficulty: Easy
Servings: 10-12
Prep Time:
15 minutes
Cook Time:
10 minutes
Ingredients
3 cups uncooked pasta (I use rotini)
5 green onions, finely chopped
1 pint grape tomatoes, halved
1/4 cup celery, diced
1 1/2 cups mayonnaise
3 Tbsp white vinegar
1 tsp sugar
1/2 tsp salt
1/4 tap pepper
1 pound bacon, cooked and crumbled
Directions
Cook pasta according to package directions. Drain and rinse in cold water.
In large bowl, combine pasta, green onions, tomatoes and celery.
In a small bowl combine mayonnaise, vinegar, sugar, salt and pepper, then pour over pasta mixture and stir to coat. Cover and refrigerate; allow to chill for 2 hours.
Add bacon just before serving.
Categories: Crowd-Size, Holiday, Pasta, Pasta Salads, Potluck, Salads, Side Dishes
Submitted by: merng on June 4, 2010