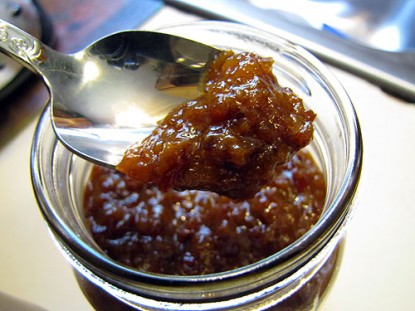 Difficulty: Easy
Servings: 2 pints
Prep Time:
30 minutes
Cook Time:
1 to 2 hours
Ingredients
2 pounds bacon
2 medium yellow onions, diced*
1 cup dark rum
1 cup brewed coffee
1/2 cup red wine vinegar
1/2 cup maple syrup
1/2 cup ketchup
2/3 cup brown sugar
1 teaspoon ground cayenne pepper
1/2 teaspoon cinnamon
1/2 teaspoon garlic powder
1/2 teaspoon nutmeg
Directions
*If you like it super spicy, add some diced jalapeno peppers.
Cook bacon in a large saucepan. Drain bacon and remove all the drippings from the pot except enough to saute the onions. Saute onions. Add back the cooked bacon and the remaining ingredients. Bring to a boil; reduce heat and simmer for about an hour, til thickened. (Could also do this in a slow cooker.) Don't over-do it–it will thicken more as it cools. Let cool. Pulse in a food processor–just get it to a jam-like texture. Keep refrigerated. (Keeps about two weeks. If it lasts that long.) Makes about 2 pints.
Categories: Appetizers & Snacks, Condiments, Other Condiments
Submitted by: suzanne-mcminn on July 31, 2013