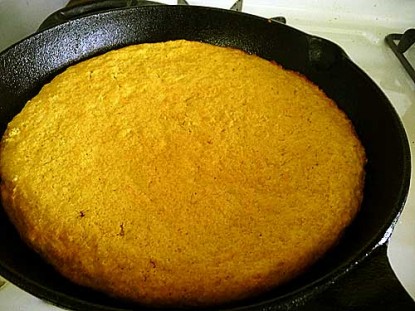 Difficulty: Easy
Servings: 2-4 depending on how much corn bread you like!
Prep Time:
Minimal - 5 to 10 minutes
Cook Time:
20 minutes
Ingredients
1 cup yellow corn meal
1 cup flour
1/2 cup granulated sugar
1 tablespoon baking powder
1 teaspoon salt
1 cup milk
1/2 cup vegetable oil
1 large egg, lighty beaten
Directions
Preheat your oven to 400 degrees. Combine corn meal, flour, sugar, baking powder and salt in a medium bowl. Combine milk, oil, and egg in a small bowl. Mix well. Add the milk mixture to the flour mixture; stir until until blended. Pour into a preheated cast iron skillet. Place the cast iron skillet into the oven and bake for approx. 20 minutes.
Categories: Breads, Other Breads
Tags: cast-iron-skillet
Submitted by: farmer on May 24, 2010