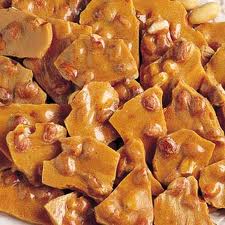 Difficulty: Easy
Servings: 1 pound
Prep Time:
2 minutes
Cook Time:
10 minutes
Ingredients
1 cup sugar
1/2 cup light corn syrup
1 1/2 cups unsalted peanuts, I use dry roasted
1 teaspoon butter
1 teaspoon vanilla
1 teaspoon baking soda
Directions
1. Combine sugar and corn syrup in a 2 quart glass dish. Stir to combine. Cook on High for 4 minutes
2. Stir in peanuts with a wooden spoon and cook on High for 4 minutes.
3. Stir in butter and vanilla and cook on High for 2 minutes.
4. Add baking soda, stir quickly until mixture gets light and foamy. Quickly pour into a greased large baking sheet. Spread with spoon. Cool completely. Break into pieces. Makes about 1 pound.
NOTE: To clean bowl, soak in hot water until sugar/syrup mixture dissolves
Categories: Appetizers & Snacks, Candy
Submitted by: kellyb on December 30, 2010