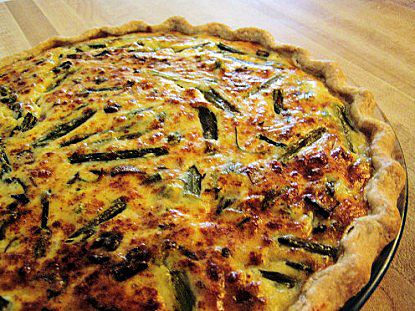 Difficulty: Easy
Servings: 4 - 6 servings
Prep Time:
30 minutes
Cook Time:
40 - 45 minutes
Ingredients
Unbaked 9″ pie crust – your own recipe or frozen; I use homemade crust of whole wheat pastry flour
1 cup low fat cottage cheese
3 eggs
1/4 cup Parmesan cheese
1 pound slim asparagus, snapped into 1″ pieces
1 shallot or small onion, chopped fine
2 cups diced mushrooms
1/4 tsp nutmeg; pepper to taste
1 handful of grated cheddar cheese (optional)
Directions
Although it isn't necessary, I prefer processing the cottage cheese in the processor for a smooth texture. Add the eggs and Parmesan cheese to mix with the processor then pour in a mixing bowl and set aside.
While the asparagus is cooking (I do mine in about 4 minutes in the microwave), saute the onion and mushrooms in butter or olive oil to reduce the moisture to near dry. Drain the asparagus and fold the cooled vegetables into the egg/cheese mixture. Season to taste. Add cheddar cheese if desired and spread into the pie crust. Smooth the top and sprinkle paprika lightly over the center for color.
Bake at 400 degrees for 15 minutes; reduce to 350 degrees for 30 to 40 minutes or slim knife inserted at center comes clean.
This makes a nice light lunch or dinner with a cup of fruit.
Categories: Cheese, Dairy, Eggs, Main Dish, Other Main Dish, Vegetarian
Submitted by: ruthmarie on May 15, 2010