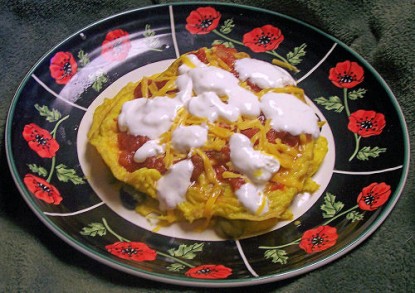 Difficulty: Easy
Servings: 1-2
Prep Time:
10 mins
Cook Time:
as long as it takes to cook the eggs
Ingredients
4 eggs
small onion chopped
salt
pepper
salsa
shredded cheese
sour cream
black and green olives(optional)
Directions
Beat eggs add salt and pepper to taste. Have on hand the salsa, cheese, olives, sour cream, and chopped onion. Cook your chopped onion (I cheat and pop in in the microwave with a bit of water to cook mine for a couple minutes).
In a small fry pan add a bit of butter and half of your egg mixture. Sprinkle on a bit of onion, cook the eggs, place on a plate, and add the other half of the egg mixture to the pan. While that is cooking, top the cooked omelet with the olives, cheese, salsa, and sour cream, top with the other omelet and repeat what you just did. This will serve two people or one really hungry person.
Categories: Breakfast, Egg Dishes
Submitted by: annaxla1 on May 14, 2010