I make these Overnight Cinnamon Rolls every year for part of our Christmas morning breakfast. I love them because they are ready and waiting for you. These cinnamon rolls couldn't be simpler. You mix them up, let them raise, shape them and then pop them into the fridge to hang out overnight. In the morning, you take them out to sit on the counter while the over pre-heats and voila! Cinnamon rolls on any day of the week.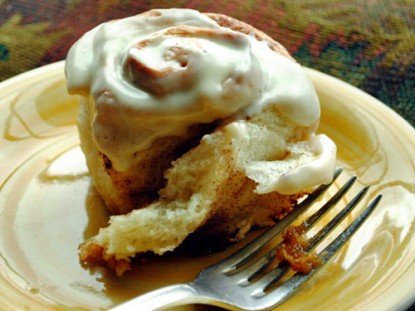 This recipe is one that I got out of a family cookbook a couple years ago and I have been using it for sweet breads ever since. However, I think that Suzanne's Grandmother bread recipe would be just as good. I do think I would add the egg and oil variation to it though. But that's just me, do whatever you like. They are your cinnamon rolls after all 🙂 Larissa posted her variation a couple days ago using Grandmother Bread.
How to make Overnight Cinnamon Rolls:
Dough:
1 1/4 cups warm water
1/4 cup sugar
1 1/4 teaspoons yeast
1 teaspoon salt
1 egg
1/4 cup oil
4-4 1/2 cups flour
Filling:
1/3 cup butter or margarine (tub margarine works the very best!)
1 cup packed brown sugar
2 teaspoons cinnamon
Cream Cheese Icing:
1 (8 oz) package cream cheese, softened
1 stick (1/2 cup) butter or margarine, softened
2 cups powdered sugar
1 teaspoon vanilla or maple flavoring
Mix the water, sugar and yeast together. Stir; let sit 5 minutes. Add the egg, oil and salt. Mix. Add the flour a cup at a time. Add flour until the dough is a cohesive ball and no longer sticky. It may take a bit more or a bit less than the recipe calls for. In no time you will have a feel for it and won't think twice anymore about how much to add!
Knead for 5 minutes, place into a greased bowl, let raise for 1 hour or until doubled in bulk.
Punch down the dough, roll it into a 9×11 inch rectangle. Spread the dough with? the butter, sprinkle with the cinnamon and spread the brown sugar evenly over the top of it all.
Roll up like a jelly roll (think a Swiss roll snack cake). Take a piece of string or dental floss and slide it under one end of the rolled up dough. Bring it up and cross it over at the top slicing through the dough. Cut into about 1 1/2 inch pieces and place into a greased 9×13 baking dish.
Cover and refrigerate overnight.
In the morning, take the rolls out and pre-heat the oven to 350 degrees. Bake rolls for 20-25 minutes.
While they are baking, beat the cream cheese, butter, powdered sugar and flavoring together. Mix until well combined; set aside. When the rolls are done, spread immediately with cream cheese frosting. Let cool 10 minutes before serving.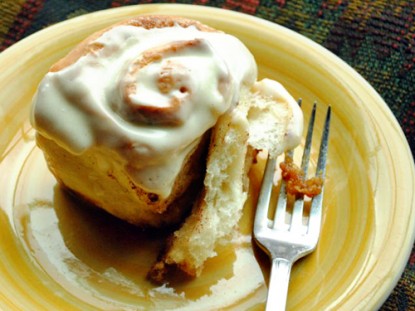 Get the handy print page and save this to your recipe box here:
Overnight Cinnamon Rolls.

Charley blogs at Cooke's Frontier.


Do you have a recipe post or kitchen-related story to share on the Farm Bell blog?
Read information here for Farm Bell blog submissions.

Want to subscribe to the Farm Bell blog? Go here.