As I sit in the corner of the front room, working on my computer, the corner of my eye catches the blackbirds attacking the squirrels running on the fencetop. The birds actually knock them off a few times–must definitely be a nest with babies close to the squirrels' path. At least two different kinds of wrens and an oriole are working over the flowers on the sour cherry tree–bloom after bloom wistfully floating to the ground. Must be nature's way of thinning the berries, I think to myself. I find myself straining to look over the computer at the garden beds and realize there is some serious work that I need to get done to plant my tomatoes.
My view from the computer.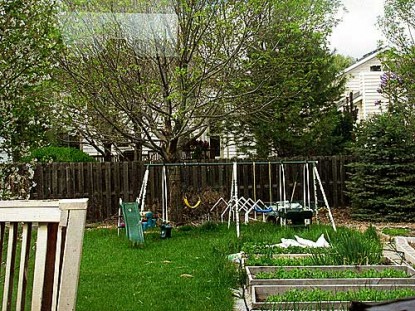 Tomatoes–one of the passions of my life. Some people think of those globe shaped balls–that must be red–when I too often talk of tomatoes. I practically drool as I think of my "babies" waiting to be planted in the garden for this year. I'm growing over 50 varieties. I had to cut back from 80 because some of the garden is now going to be a strawberry bed (DH wins that one!). My yard isn't super big, but I have found that one really doesn't need as much grass as they think they do–especially when tomatoes are at the focus of the gardening. "One can't eat grass" is my motto. I know that I've taken for granted my insight and love of tomatoes and almost assume people understand me when I talk of whites, greens, purples, pinks, and use words like heirloom and hybrid. Sometimes I struggle inside to understand why they aren't as excited to talk about tomatoes as I am–and don't also have a file just for tomato articles and lists!
A few varieties that I've grown–beautiful colors!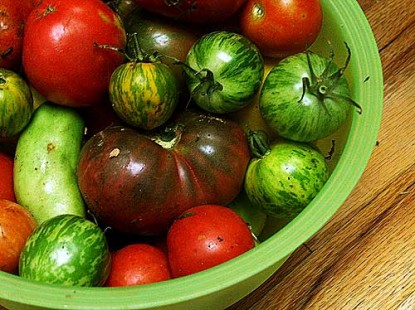 Blending colors and flavors for canning.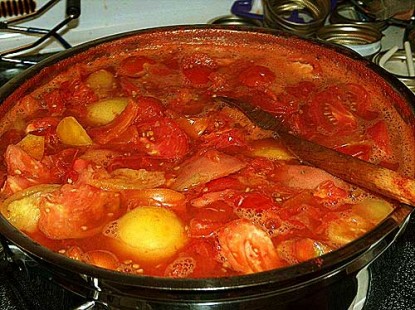 Five years ago my eyes were opened to the world of heirlooms, and I felt like I had found tomato heaven. The different flavours, sizes, colors, shapes–a paradise of deliciousness and excitement! Gardening isn't just for food anymore. It is for pleasure that I can up and have year round. Learning the nuances of the different flavours has turned eating a tomato into savouring a tomato. The various textures are amazing. And, something that has struck me deeply, saving history with seed saving is an honour. Knowing that some, often unknown, person has carefully preserved, season after season, the delicate seeds to keep a variety historically viable and that I, too, can be part of this legacy. It is not a private club just for the privileged. Pilgrims and farmers for centuries have sustained and embraced these amazing varieties.
Varieties kept separate to seed save before canning.

I think to myself, Time to get out there and start the process again, as I smile, slide out of my chair, and head for the back door.
You can also find Moopsee at Yahoo's Canning2.

Interested in contributing to the Farm Bell blog? Read information here for Farm Bell blog submissions.