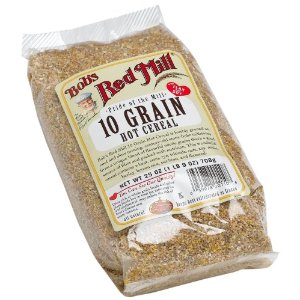 Difficulty: Easy
Servings: 2
Prep Time:
2 minutes
Cook Time:
3 minutes
Ingredients
2 cups milk
1/4 c 10 grain cereal
1/4 cup original oatmeal
1/4 cup slivered almonds
1/4 cup raisins
2 packets Splenda
Directions
Mix: All ingredients in a microwavable bowl.
Heat: 2 1/2 – 3 minutes. Watch Carefully.
Cover, let stand for 8 – 10 minutes. This allows the grains to soften. ENJOY.
Note: I buy the Bob's Red Mill 10 grain cereal. You can change this up with your favorite fruits/berries and nuts. Can also use honey instead of Splenda.
Categories: Beans, Grains & Rice, Breakfast, Cereals, Low-Fat, Special Diets
Submitted by: julia on May 4, 2010